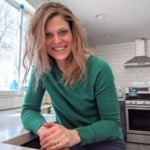 By: Ana Ankeny Posted: 9/29/21
What better way to celebrate every holiday and special event (or even a regular old weekend morning) than with freshly baked Gluten-Free Donuts with Cinnamon and Sugar? Made easy with pantry staple ingredients and not fried, these perfectly soft and fluffy homemade donuts will have your kitchen smelling like a bakery.
The perfect Gluten-Free Donuts
The simplicity of these baked donuts, with their minimal ingredient list, easy baking instructions, and heavenly taste is sure to make your mouth water and have you coming back for round two. Donuts are the dessert of desserts, seamlessly making an appearance everywhere from laid-back weekends to big, fancy wedding celebrations. Our easy Gluten-Free Donuts with Cinnamon and Sugar are sure to be a hit in your kitchen, but only for a minute, as they'll quickly be snatched up by kids and adults alike!
Ingredients for Gluten-free Donuts with Cinnamon and Sugar
Gather up these simple refrigerator and pantry-staple items so you can make these delicious, melt-in-your-mouth cinnamon sugar gluten-free donuts today!
Melted butter – using a small amount of melted butter to brush on the donut will help the cinnamon sugar stick to the donut. You can also use avocado oil or melted coconut oil for dairy-free donuts
How to make this Gluten-free Donut Recipe
Making donuts at home may seem like an undertaking, but give it a try. You'll be impressed by how easily they come together, and you don't even need to fry them!
Make the batter: Mix together the eggs, oil, sugar, and vanilla. Add the gluten-free all-purpose flour, baking powder, and baking soda.
Bake the donuts: Fill a 6-count donut pan (see our pan recommendations below) ¾ full to almost full with donut batter. Bake at 350℉ for 16-22 minutes or until lightly golden brown. Time will depend on the pan used. Remove from the oven, allow to cool in the donut pan before removing.
Top the donuts: Stir together the cinnamon-sugar topping. Using a pastry brush, sweep a thin layer of melted butter onto a cooled donut. Then, immediately place the donut (butter side down) into the bowl of cinnamon-sugar mixture. Swirl to evenly coat one side of the donut.
Cinnamon Sugar Topping for Donuts
Sometimes simple is best, and this is one of those times. Just look at how beautiful these donuts are with a 2-ingredient cinnamon-sugar topping. Almost too pretty to eat, right? Well, one bite into the soft donut and you'll be wanting every last crumb. The cinnamon-sugar mix is the magic to making these gluten-free donuts irresistible. With a simple melted butter technique to get the cinnamon and sugar to coat the donut, you elevate the taste just a little bit more! Adding the cinnamon sugar is our favorite step in making this donut recipe, and our kids love to help with this simple and delicious task, too.
How to store cinnamon sugar donuts
Freshly baked gluten-free donuts are best stored in a covered container at room temperature for up to 3 days (trust us, they won't last that long). Let the coated donuts cool completely before storing.
The Best donut pan for making donuts at home
Donut pans come in all shapes and sizes. We've tried several out and our favorite donut pans are these silicone donut pans. They release the donut after baking with ease because you can simply fold and pop the silicone to help release the donuts. We also like this non-stick donut pan from Wilton. If using a metal donut pan, we recommend you use a spoon to carefully remove the baked donuts.
The perfect donut recipe for all occasions
These homemade donuts are PERFECT. Didn't your eyes light up and your mouth start watering a little as you looked at the photos? Don your apron and enjoy a quick baking sesh that will result in perfect gluten-free donuts and smiles all around. Each bite of these homemade gluten-free donuts will leave your lips coated in a light layer of cinnamon sugar for a last little taste to remember.
Pin Now to Make Later